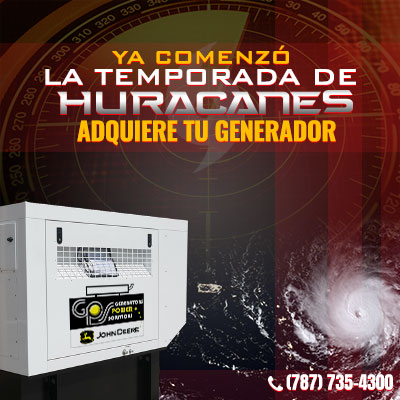 Hurricane season has begun!
Be prepared and get your generator. In Generators Power Solutions we specialize in commercial and industrial electric generators, tailored to the needs of each business. We offer specialized, efficient and cost-effective equipment so that companies are not hold back due to lack of electricity. Don't leave it for later!
Request Quote
We provide quality equipment and service, ensuring your satisfaction.
We're the leaders in sale and service of electric and marine generators!
Generator Power Solutions, Corp. was founded in August 2004 as a service and sales company for electric generators. To date, it has registered several corporations such as: Gent Power System, Inc., GPS Marine Power, Inc. and GPS Electrical Contractors, LLC. In 2007 it was designated dealer in PR and part of the Caribbean by John Deere Power System. Also, in the OEM area for the sale of original John Deere engine parts.Read more...