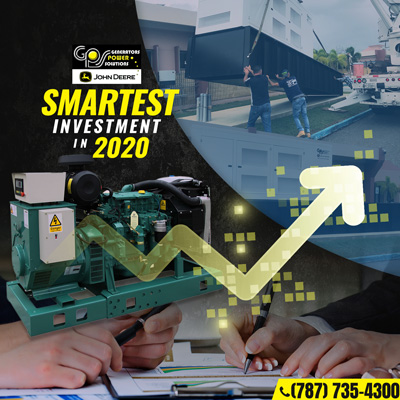 Smartest investment in 2020
Invest for the future! The blackouts in Puerto Rico have become constant because of natural events, we must be prepared for any storm or earthquake. The solution for your business this 2020 should be to intelligently invest in an electric generator. With Generator Power Solution, commercial and industrial generators controlled to suit your location. Don't worry about electricity anymore! Request an orientation today. Call at (787) 735-4300
Request Quote
We provide quality equipment and service, ensuring your satisfaction.
We're the leaders in sale and service of electric and marine generators!
Generator Power Solutions, Corp. was founded in August 2004 as a service and sales company for electric generators. To date, it has registered several corporations such as: Gent Power System, Inc., GPS Marine Power, Inc. and GPS Electrical Contractors, LLC. In 2007 it was designated dealer in PR and part of the Caribbean by John Deere Power System. Also, in the OEM area for the sale of original John Deere engine parts.Read more...